Artisan Map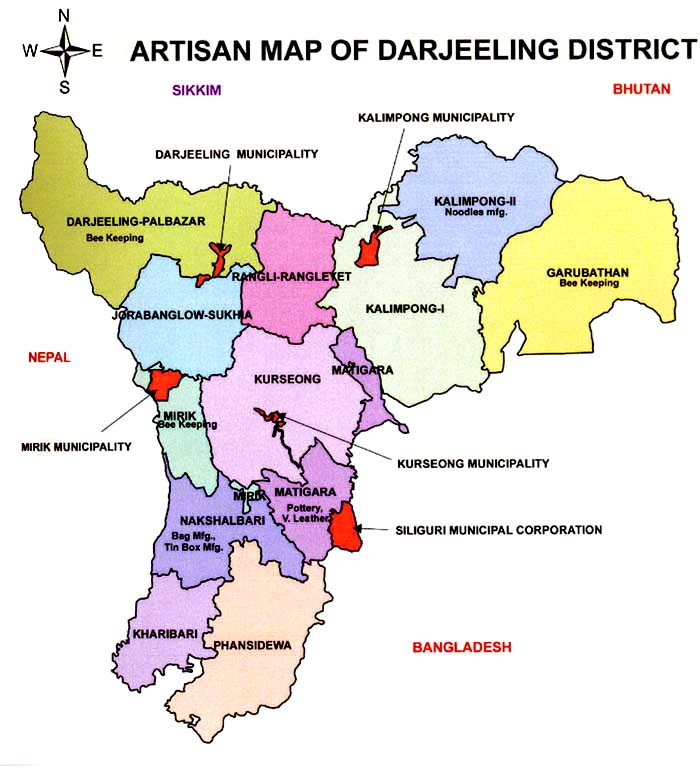 Background
The name "Darjeeling" came from Tibetan works, 'Dorje' meaning thundebolt (originally a specter of India) and ling' a place or land, hence —The land of thunderbolt".Darjeeling - the name is synonymous to its enchanting natural beauty. This district consists of two different geographical areas -Hills and Planes. The great diversity in terms of livelihood, caste, culture, language, standard of living are seen here.The district is categorically treated as industrially backward area where main sources of employment largely depends on 5-Ts means - Tea, Timber, Tourism, Tobacco & Transport.
The area is enchanted with tea garden covering with deep green forest areas and plenty of fruit orchard and vegetable production.A good number of rivers namely Teesta, Mahananda, Balason, Great Rangit, Mechi, Lish, Gish, Chel, Ramman, Murti and Jaldhaka are flowing through the area.Geographically the area has its importance with International border with Bangladesh, Nepal and Bhutan, Opening of Nathula border has made the area more important in the sphere of business and tourism. In the inherent potentiality of this area is tapped properly, this area can be in the forefront so far industrial rejuvenation is concerned.
The two most significant contributors to Darjeeling's Economy are Tourism and the Tea Industries. Darjeeling Tea,  due to the unique agro-climatic conditions of Darjeeling, has a distinctive natural flavor, is globally reputed and recognised as a Geographical indicator. Darjeeling produces  7 % of India's Tea out put. 
Several Tea Estate are being run on a workers' Co-operative Model, while others are being planned for conversion in to Tourist resorts. More than 60% of Workers in the Tea Gardens are women. Beside Tea, the most widely cultivated crops include maize, millets, paddy, cardamom, potato  and ginger. 

Mirik, Darjeeling, Kurseong, Kalimpong, Mongpu, Lava, Lollegaon, Rishop, Neora Vally Forest, Pedong, Rikisum, Jore Pukri, Falut, Sandakphu, Siliguri, Sevoke Coronation Bridge, Hong Kong Market, Jhallon. Bindu, Samsing, Chitre and many more….
Basic Information
1.

Area

3,149 sq km (As per Census 2011)

 
 
 
 
 

2.

Population

18,42,034

(Male 9,34,796; Female 9,07,238)

3.

Literacy Rate

71.79 %

(Male 80.05 %, Female 62.94 %)

4.

No of Sub Division

 

5.

No of Blocks

 

6.

Address Of District Office

116, Ashutosh Mukherjee Road,
Collegepara ,
P.O.Siliguri, District - Darjeeling.

Contact No:.0353 2525278/ 8335060767

7.

District Setup of KVIB

Started In 1986
Performance
1.Pre-C.B.C. Programme (1986-1995) 

a.No.  of unit 1113
b.Amount Rs. 34.49 lakhs


2.C.B.C. Programme 

a. No. of unit. 198
b. Amount Rs. 27.62 lakhs.


3.R.E.G.P.(1999-2008) 

a. No. of Unit.  325
b. M.M. Involved Rs. 450.77 Lakhs
c. No. of Employment 5204


4.P.M.E.G.P.(2008-2012) 

a. No. of unit.  224 No.
b. M.M. Amount Involved Rs. 448.11 Lakhs
c. No. of Employment 1940 Nos.