Artisan Map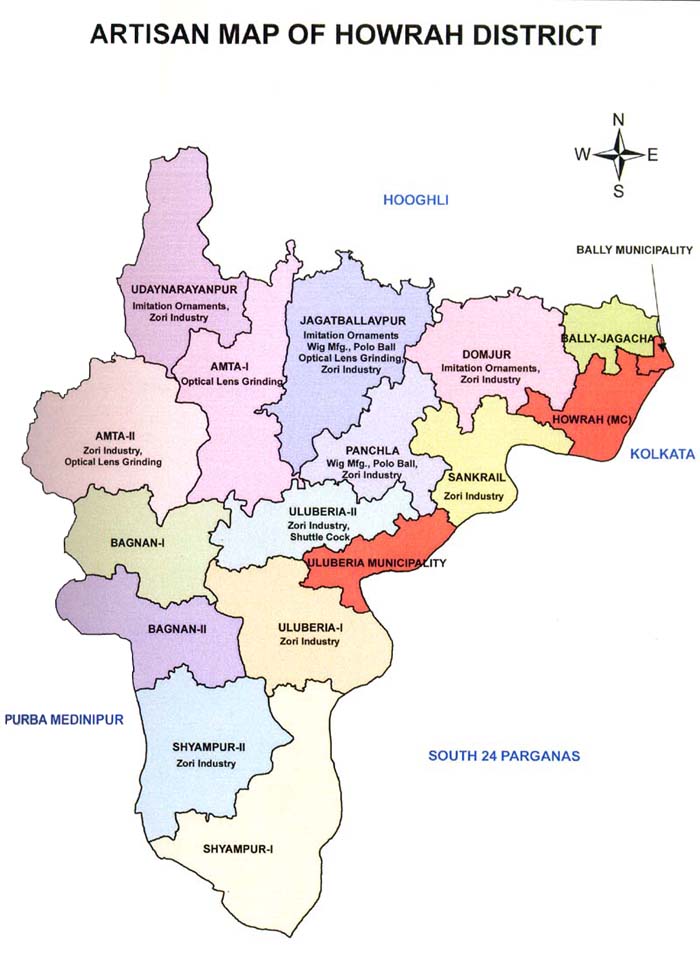 Background
This district was recently transferred from the Burdwan Division to the Presidency Division under Government of West Bengal Notification No. 999-G.A. dated March 4, 1963.It is bounded on the north by the Arambagh and Serampore subdivisions of the Hooghly district; on the east by Calcutta and  the Barrackpur, Alipur and Diamond Harbour subdivisions of the 24-Parganas district; on the South by the Tamluk subdivision Midnapur district; and on the West partly by the Tamluk and Ghatal Subdivisional of the latter district and paratly  by the Arambagh subdivision of the Hooghly district. The boundaries are partly natural and partly artificial. On the West and south-west the Rupnarayan River, and on the east and south-east the Bhagirathi River constitute  natural boundaries, while on the north, except for small stretches to the north-east and north-west bounded by the Bally Khal and the Damodar River respectively, the boundary is formed by an artificial line marking the southern limits of the Hooghly district.
Basic Information
1.

Area

1,467sq Km. (As per Census 2011)

2

Longitude

Between 88022' 10" and 87050' 45" east

Latitude

Between 22012' 30" and 22046' 55" north

3.

Population

4,841,638

(Male 25,02,453; Female 23,39,185)

4.

Literacy Rate

77.01 %

(Male 83.22%, Female  70.11%)

5.

No of Sub Division

3

6.

No of Blocks

14

7.

Address Of District Office

Shanpur (Shibtala),'W' Road,
P.O-DASNAGAR, District- Howrah  
Pin:. 711105

Contact No:. 033 2653 0380/  8335060753

8.

District Setup of KVIB

Started In 1986
Performance 
1.Pre-C.B.C. Programme
a.No.  of unit 4381
b.Amount Invested Rs. 247.59 lakhs
c.No.  of Employment 8279
2.C.B.C. Programme
a. No. of unit. 291
b. Amount Invested Rs. 67.81 lakhs.
c. No. Employment- 650
3.R.E.G.P.
a. No. of Unit.  977
b. Amount Invested Rs. 2921.11 Lakhs.
c. M.M. Involved Rs. 712.03 Lakhs
d. No. of Employment 10738
4.P.M.E.G.P.
a. No. of unit.  213 No.
b. M.M. Amount Involved Rs. 279.35 Lakhs
c. No. of Employment 2141 Nos.