Artisan Map: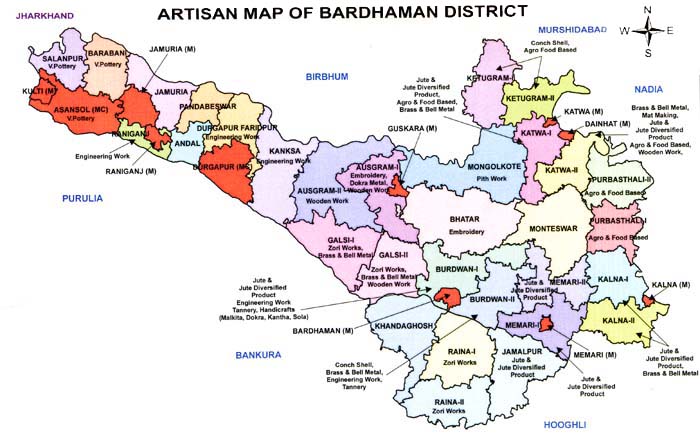 Background:
1. Origin of the name of the District-
The name of Burdwan is derived from the Sankrit work 'Vardhamana'. According to the word it means prosperous growth centre. It is true that Burdwan is not only the largest district, but also rich in agriculture and industry of West Bengal. The district is gradually development in rural and urban sector fulfilling the meaning of the name of Burdwan.

2. Boundary of the District-
Burdwan is bounded to the north by the Ajoy River, Santhal Parganas of Jharkhand, Birbhum and Murshidabad district, to the East by river Hooghly and Nadia District, to the South by Hooghly District, the Damodar river, Bankura and Purulia District and to the West by the river and Dhanbad District of Jharkand State.

3. Cultural Tradition-
Still today many are of the opinion that 'Burdwan' culture is Agriculture. This is not merely a joke but it is a known fact that Burdwan is the granary of Bengal. Some folk cultures are here and there seen in the district but not to be focused.

4. Places of Historic and Tourist Interest-
In Burdwan town there are Curzon Gate, Meghnand Saha Planetarium, Science Centre, Deer Park, Krishna Sayer Park, Gopal Bag, Burdwan University, Burdwan Rajbari, 108 Shib Temple, Bardhamaneswar Shib Mandir, Sarbamangala Temple, Golden Kalibari, Kamalakanta Kali Temple, Kankaleshwari Kali Mandir, Temple of Pir-Baharam, Sherafgan, Krishak Setu, Town Hall Maidan.

In Durgapur there are Kumarmangalam Park, Damodar Barrage, City Centre, Bhabani Pathak Cave, Rondiha at Panagarh.

In Asansol – Maithan Dam, Kalyaneswari Temple, Kabitirtha Churulia, Panifala, Hot Water Wave etc.

At Kalna – Pakhiralaya, Terracotta Temple, 108 Shiva Temples, Pandit Bhaskar Devi etc.

At Katwa- Pandurajar Dhibi etc are pieces of historic and tourist interest.

5. Glimpses of Boards activities in the district-
Since the setting up of district offices of the Board in 1985 the Board (KVIB) has directly distributed the loan amount to the tune of Rs.1,68,98,820 among 4073 beneficiaries in Burdwan upto the year 1994-95.

After that consortium, Bank Credit, REGP & PMEGP (ongoing) schemes have been launched. Burdwan District Office of the Board is successfully implementing the works of rural areas of the district.


Basic Information:
1.

Area

7024 sq km 

 
 
 
 
 

2.

Population

7,723,563

(Male 39,75,356; Female 37,48,307)

3.

Literacy Rate

70.18%

(Male 78.63%, Female 60.95%)

4.

No of Sub Division

6

5.

No of Blocks

31

6.

Address Of District Office

Spandan Complex(Ground Floor),
G.T. Road, 
P.O & District - Burdhaman. 
PIN - 713101.

Contact No:. 0342 2568740/ 8335060761

7.

District Setup of KVIB

Started In 1986
 Performance:
1.R.E.G.P.(1999 -2000 to 2007-2008)

a. No. of Unit.  630
b. Project Cost Rs. 505.71 Lakhs.
c. No. of Employment 7580
Khadi Institution:
| | | | | | |
| --- | --- | --- | --- | --- | --- |
| Sl. No. | Name | Address | Contact Number | Category | Product |
| 1. | Jana Kalyan Silk Khadi Sangha | P.O.-Banawari Bad-raj | 9475227781 | B | Silk |
| 2. | Burdwan Gramin Silpa Samity | P.O.-Burdwan | 9474110419 | B | Cotton & Silk |
| 3. | Lok Samity | Katwa Vill.-Shimulia chati,P.O.-shimulia Danga | 9735746305 | B | Cotton |
| 4. | Nasaratpur Khadi Kutir Shilpa Samity | P.O.-Nasaratpur | 947551581 | B | Cotton |
| 5. | Ambika Resham Khadi Silpa Samity | Jilipibagan (North PurtaBhavan)P.O.-Sripally | Nil | C | Silk |
| 6. | Purbasthali Khadi Resham Gram Unnayan | Samity, P.O.-Purbasthali | 9233189658 | C | Cotton & Silk |
| 7. | Amdanga Resham Khadi Gramodyog | Sangha, P.O.-Musthuli | 9733075891 | Nil | Silk |
| 8. | Kachutia Khadi Shilpa Unnayan Samity | P.O.- Kachutia | 9153324710 | C | Silk |
| 9. | Khadi Gramodyog Shilpa Unnayan Sanstha | P.O.-Natun Palli | 9474114694 | C | Cotton & Silk |
| 10. | Musthuli Gramin Silpa Sanstha | P.O.- Musthali | 9474318348 | C | Silk |
| 11. | Purbanchal Khadi Gram Silpa Pratisthan | P.O.- Nandai | 9475258886 | C | Cotton |
| 12. | Rural Industries Development Centre | P.O.- Shreepally | 9475258886 | C | Cotton |