Artisan Map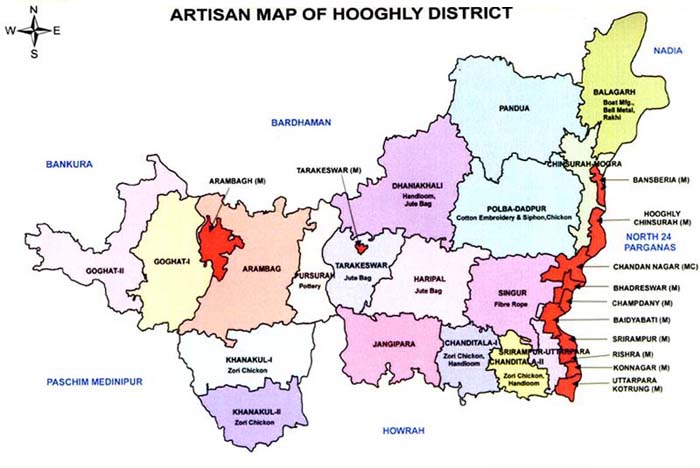 Background
This district with its Headquarters located at Chinsurah town is within the Burdwan Division of the State of West Bengal. So far history goes, the name "Hooghly" is derived probably from the 'HOGLA', a tall reed, which grows in abundance on the riverbanks and in the marshy low lands below them.
At dawn of history this part of the country was probably included in the territory held by the Suhmas, a tribe mentioned in juxtaposition with the Angas, Vangas and Pundras in the Mahabharata and also in the Mahabhashya, a grammar dating back to the second century B.C.In the third century B.C. the territory of the Suhmas was included in the vast empire of Asoka, which extended over the whole of Bengal as far as the mouth of the Ganges and upto Tamralipti (the modern Tamluk). Several centuries later this tract became absorbed with the rest of Bengal in the Gupta Empire, owing to a successful campaign by Samudragupta in the fourth century.In the beginning of the seventh century, it appears to have been conquered by the powerful king of Bengal Sasanka of Gaur. In the second quarter of that century it became part of the great emperor Siladitya Harshabardhan. The northern and eastern part of the district, however, passed into the hands of the Sena kings of Bengal.
The district remained under the rule of indigenous rulers till the 13th Century. The northern part of the district had passed into the hand of the Mughal Rulers by 1298 A.D. Colonial forces came later.The Portuguese, the Dutch, the French, the Danes, the English came to this district for business purpose and established "Kuthis". They also settled in the district and utilised the district as the "Window" to the foreign Settlers. Chandernagore was under the French since 1696 till 1950. Chinsurah and Serampur were under the Dutch and Danes respectively for a long period.After the battle of Plassy, Mirkasim by an agreement donated the Zamindery areas of Burdwan, Midnapur and Chittagang to the British in the year 1760. The British introduced their own rule to administer those areas according to their system.For administrative purpose in 1795, the district of Burdwan was divided into two parts, the Northern Division being called Burdwan and the southern division Hooghli. The Bengal Presidency at that time was divided into 14 districts of which Hugli was one.Hooghly became a separate Collectorate in the year 1822 with Mr. W.H. Belli being the first Collector. The present Collectorate Building was constructed between 1827 and 1829 to accommodate the British troops.
Basic Information
1.

Area

3149 Sq kms (As per Census 2011)

 
 
 
 
 

2.

Population

5,520,389

(Male 28,19,100; Female 27,01,289)

3.

Literacy Rate

75.11 %

(Male 82.59%, Female  67.21%)

4.

No of Sub Division

1

5.

No of Blocks

18

6.

Address Of District Office

41/1 , Kacharipara Road,
Borobazar
P.O.-Chinsurah, District-Hooghly.

Contact No:.033 2680 3212/ 8335060754

7.

District Setup of KVIB

Started In 1986
Performance
1. Pre-C.B.C. Programme (1985-86 to 1994-95)
a. No.  of unit assisted 3338
b. Total loan and grant disbursed 128.72
c. employment 4334
2. C.B.C. Programme (1995-96 to 1997-98)
a. No.  of unit assisted 653
b. Total loan and grant disbursed 118.72
c. employment 1986)
3. Prime Minister's Employment Generation Programme (2008-09 to 2012-13) 
a. No.  of unit assisted 260 
b. Total margin money (Govt. subsidy) disbursed 547.56
c. Employment 620
Khadi Institution
| | | | | | |
| --- | --- | --- | --- | --- | --- |
| Sl. No. | Name | Address | Contact Number | Category | Product |
| 1. | Balagarh Khadi SevaSamity | Vill.-South Chandra P.O.-sreepur Bazar | 9433404240 | B | Cotton & Silk |
| 2. | Sudhakrishna Khadi Gramodyog Samity | Vill. & P.O.-Kankrakhuli P.S-Dhaniakhali, Dist.-Hooghly | 9434436367 | C | Cotton & Silk |
| 3. | Hooghly Zilla Khadi 'O' Kutir Silpo Pratisthan | SGC, Super Market, N.S. Avenue, Serampore P.O-Serampore, Dist.-Hooghly |   |   |   |