Artisan Map
Background
Major roads connect you to places like Bangaon, Gaighata, Habra, Baduria, Rajarhat, Harua and the Salt lake. Smaller towns are also well connected to various cities in the district and other parts of the state like the Ganrapoa, Chandpara, Gobardanga, Chaubaria, Banglani, Taki, Majhergram and Pirgachha. Places of importance in the district are Barasat, Barackpore, Bidhan Nagar, Basirhat etc. the salt Lake need special mention here for it is an all-inclusive township. Barrackpur is a place famous for military barracks during the British rule. The head quarters is situated in Barasat.
The district lies in the southernmost tip of West Bengal to the east of India. The district is bordered by Bangladesh to the north and east and Nadia district to the North. The South 24 Parganas is situated to the south along with Kolkata. To the west is Howrah, Hugli and Kolkata.
Basic Information
1.

Area

4,094 sq km (As per Census 2011)

2

Longitude

Between 88°20'  E to 89° 5'E

Latitude

Between 22° 11' 6" (right above the tropic of cancer) N to 23° 15'2" N

3.

Population

10,082,852

(Male 51,72,138; Female 49,10,714)

4.

Literacy Rate

84.06%

(Male 87.61%, Female 80.34%)

5.

No of Sub Division

 

6.

No of Blocks

 

7.

Address Of District Office

Rishi Bankim Sarani,
Zilla Parishad Bhavan,
P.O. - Barasat,
District - North 24 Parganas

Contact No:. 033 2552 2246/ 8335060752

8.

District Setup of KVIB

Started In 1986
Performance
1.Pre-C.B.C. Programme (87-88 to 95-96)

a.No.  of unit 5562
b.Project Cost Rs. 752.85 lakhs
c. M.M. Involved Rs. 191.56 Lakhs
d.No.  of Employment 760

2.C.B.C. Programme (96-97 to 98-99)

a. No. of unit. 361
b. Project Cost Rs. 174.39 lakhs.
c. M.M. Involved Rs. 58.32 Lakhs
d. No. Employment- 290

3.R.E.G.P.(2000 -01 to 2007-08)

a. No. of Unit.  1601
b. Project Cost Rs. 2250.35 Lakhs.
c. M.M. Involved Rs. 908.52 Lakhs
d. No. of Employment 9830

4.P.M.E.G.P.(2008-09 tO 2012-13)

a. No. of unit.  420 No.
b. Project Cost Rs. 3315.25 Lakhs.
c. M.M. Involved Rs. 1196.96 Lakhs
d. No. of Employment 7590
YARN PRODUCTION CENTRES
There are 2 (Two) nos. of Direct Yarn Production Centres of the Board in this district.
1) R.C.C at Banamalipur, Barasat
2) NMCC at Ashoknagar
Total 260 no. Of Spinners are involved in Both the centres . The Centres are under control of North 24 Parganas District Office. In order to provide a better livelihood to the poor women artisans another 5(five) Satellite sub-centres have been set up in the Districts. Yarn produced at the centres are now utilized in producing fabrics in our Centre of Excellence at Ashoknagar, North 24 Pgs.
Thereafter converted into Fabrics. Various Khadi Readymade dress materials are being produced herein in terms of order of Marketting section of the board.besides in weaving through jacquard , muslin saree, bed sheet, bed cover etc. are producing.
Further in COE, trg. under kantha stitch , embroidery , tailoring etc are going on occasionally.
In a word the centre of excellence is running up to the mark.

Though the Bengal has established its status under Khadi Programme for this unique art and craftsmanship, mainly in major potential seven Districts in the State but due to the climatic condition and non availability of local resources in the District, it has not widened the scope for the development of Khadi programme in the District. For information , one MUSLIN THIRTHA PROJECT has been Sanctioned in favour of KHADI BOARD, Dept. Of MSSM& T for the revival of Muslin Heritage of Bengal. Accordingly this district is giving all-out thrust for exploring new new area towards setting up Khadi Cotton YARN(40s) & Khadi Muslin YARN (100s -200s) as well as weaving Centre of the Board in the District with a view to create new women Employment Generation who are basically needy. Meanwhile various diagnostic survey have been made and successfully in North 24 Pgs Khadi Muslin unit has been set up . Huge women artisans of the locality are directly involved in the Centre and earning their bread .
Besides to promote marketing support, Khadi & Village Industries Board is organizing State Level Khadi Mela, Zonal level Khadi Mela Fashion shows in state level and District level khadi Mela respectively. Besides buyers and sellers meet also is being undertaken here and there occasionally.
Recently three Zonal level Khadi Mela one at Habra and another two at Madhyamgam , Subhas Maidan were held respectively with the assistance of District authority and next would be started from 22.09.19 to 04.12.2019 at madhyamgram, Subhas Maidan for 2019-2020
At present , District Khadi Board is exploring new innovative projects and setting up of New Khadi Societies owing to create employment opportunity in the District both in Khadi & V.I. sector keeping the traditional cluster in the district for the upliftment of the rural people and trying hard to make success the dream of Mahatma Gandhi ….The Gram swaraj.
Recently in the complex of STAR MALL, Madhyamgram, North 24 Pgs. -Khadi Board has opened a new sales outlet within the pavilion of SPENCER wherein exclusively design based KHADI & MUSLIN products has been exposed for sale
At the end, it is clearly mentioned that the intervention as have been taken already by the West Bengal Khadi & Village Industries Board , Dept. Of MSME&T, Govt. Of West Bengal in the rural area of this District would benefit the needy and downtrodden people of this District This would create revolutionary changes towards creation of rural employment in the district.
Consolidated Report of all developmental Schemes in RESPECT OF Khadi & Village Industries Board taken up already
LOCATION OF THE  RUNNING SPINNING UNITS
NAME OF FACILITATING AGENCY

No. of ARTISANS ENGAGED

MONTHLY EARNING PER HEAD

OTHER FACILITIED ARE PROVIDED

1)      CENTRE OF EXCELLENCE-KHADI ASHOKNAGAR

--IT'S A CLUSTER PROJECT WHERE COTTON &MUSLIN KHADI YARN ARE PRODUCING AND AT THE SAME TIME MUSLIN KHADI SAREE, FARICS , BEDCOVERS, READYMADE DRESS MATERIALS  ARE PRODUCING  BESIDES READYMADE GARMENTS TRG., KATHA STITCH TRAING ARE IMPARTING TAKING WITH LOCAL WOMEN.  Hon'ble CM INAUGURATED THE PROJECT.

It's a complete composite project and huge women are involved towards earning their livelihood.

145

Rs. 2500-Rs.15000

1) Artisan Welfare Trust fund.

        2)Bonus,  & Exgratia etc.

Satellite units under Ashoknagar

Women are involved

2)      RAJKOT CHARKHA CENTRE, BANAMALIPUR

15

Rs.1500-Rs.4000

Do

3)   RAMKRISHNAPUR NIBEDITA SAYAMBAR GOSTHI

20

Rs.2000-Rs.5000

Do

4)  PRANAB KANYA SANGHA

15

Rs.1500-Rs.3500

Do

5)  BALIVARA GRAMIN SHILPA UNNAYAN O SAMAJ KALYAN KENDRA

 

15

Rs.1000-Rs.3500

Do

6)   HOLY MISSION CHIDREN'S  WELFARE AND RURAL  DEVELOPMENT

 

20

Rs.1500-Rs.4000

Do

7) JOYGOPALPUR YOUTH DEVELOPMENT CENTRE

30

Rs. 1500-3000

Do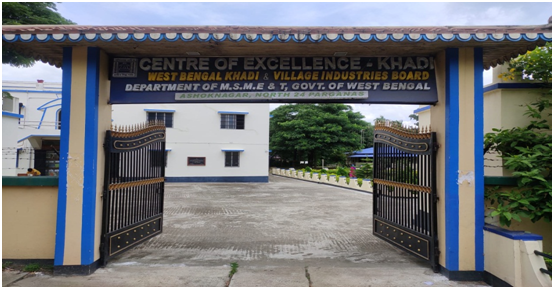 Ashoknagar- CENTRE OF EXCELLENCE-KHADI
A Dream Project of Hon'ble Chief Minister of West Bengal MAMATA BANERJEE
INAUGURATED ON:-11.01.2019 FROM KACHHARI MAIDAN, BARASAT
BACKGROND OF THE CENTRE :
• In 1970 The Centre of Excellence-Khadi STARTED AT Ashoknagar With 20-25 Women Worked in Spinning FOR PRODUCING 40 count Yarn AND continued upto 2016.
InitiativeTaken by the Board:
• First Muslin Training PROG. Started inAshoknagar of Board in Year-2016.
• Then C.E.O.,P.E.O. CO(K) etc. were present to Inaugurate The New Building & the Muslin Khadi Yarnof 100 count starts production with Women Artisians of Ashoknagar who were earlier engaged in 40 count Yarn Production.
Construction of New Building:
• New Building Started with Two Storied Building(each floor approx..2700 sq.ft.)&renovated old building thereafter for initiating further course of Training & storing Materials.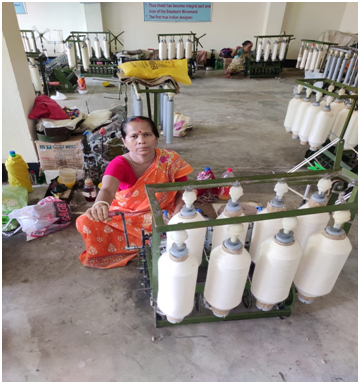 SPINNING YARN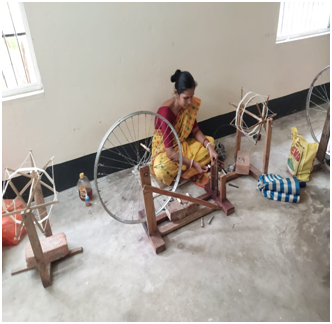 PRE-WEAVING PRODUCTION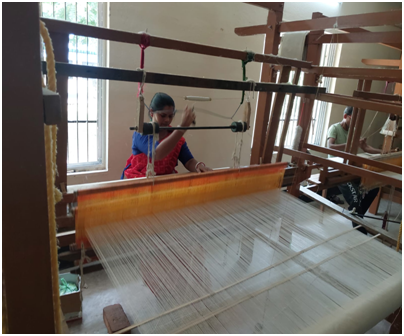 WEAVING SECTION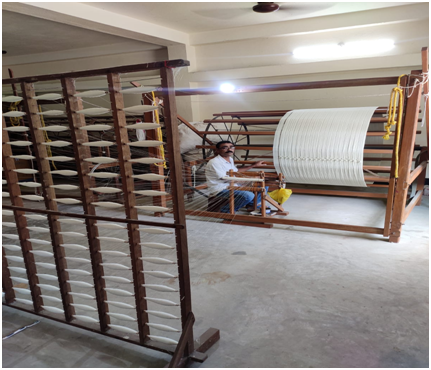 DRUM SECTION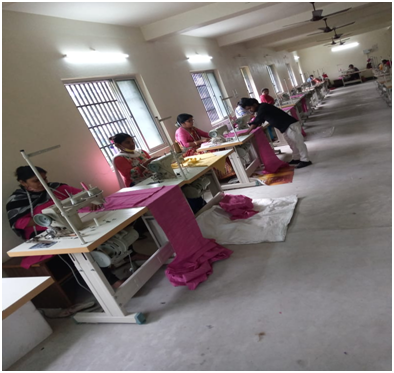 TAILORING UNIT SECTION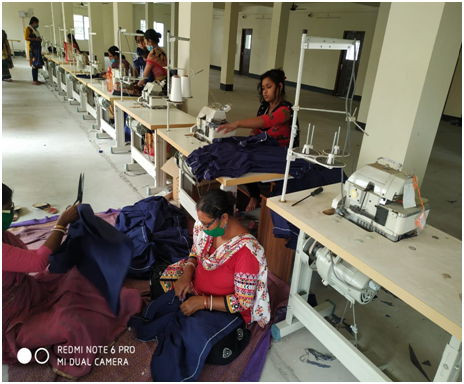 MAKING SCHOOL UNIFORM  (TAILORING UNIT)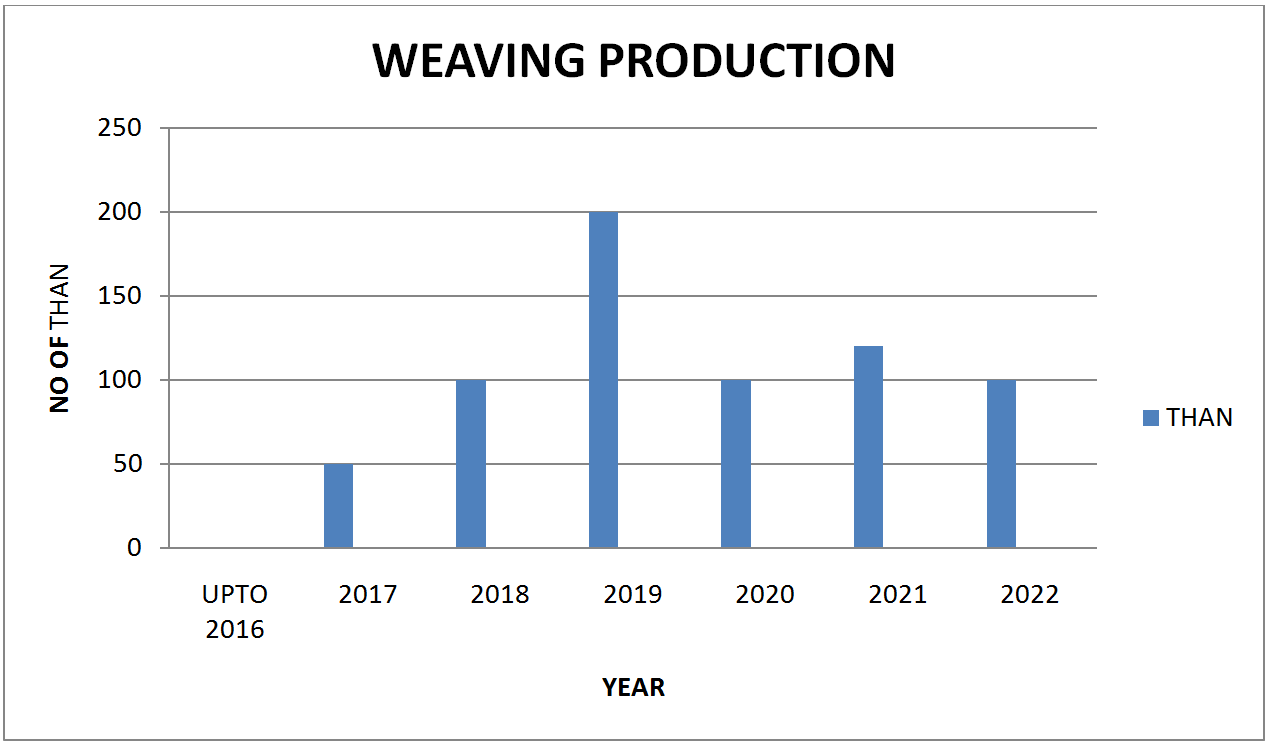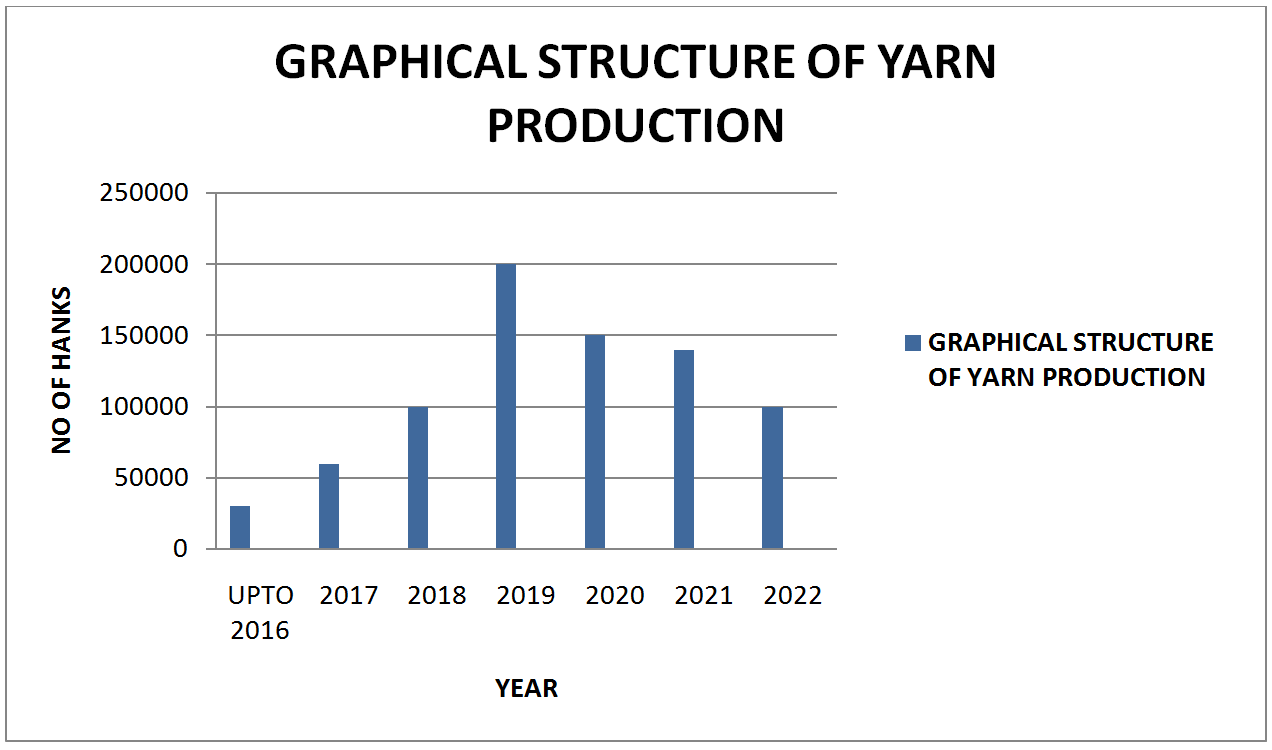 VILLAGE INDUSTRY
Cluster Development Project  OF WEST BENGAL KHADI & VILLAGE INDUSTRIES BOARD, NORTH 24 PGS.(COMPLETED PROJECT)
Sl. No.

Name of  Facilitating Agencies under Cluster with Address

Name of  Cluster Project

Under state plan

 

Total Project Cost

(Rs. In lac)

           Remarks

1

BALIVARA JUTE DIVERSIFIED  PROJECT

BARRACKPORE

Jute Diversified Items

22.50 Lakh

It's a completed project of 2012-13

100 SHG women are involved in this project.

Presently Balivara are conducting trg., producing jute diversified products.

2

CHALTABERIA GANOUNNAYAN SANGSTHA, DUTTAPUKUR

Terracotta

1.07  Crore

The project is  running well.  CFC formed. Electric furnace installed .

450 artisans have been trained and involved in producing of various terracotta items.

100% COMPLETE  PROJECT.

3(a)

SATHI SEVA SANDESHKHALI ALAKA GUCHHA SAMITY, DWARUIRJUNGLE, SANDESHKHALI -II

NORTH 24 PGS

Readymade garments

1.00

The project is running well. CFC formed. Sewing machines of high power have been supplied almost to all trained artisans.

210 artisans have been trained and involved in producing of textile items like school dress, mask , nighty, churidar etc. 40 ARTISANS have  trained in skill DEV. Trg.

100% COMPLETED PROJECT.

3(b)

JOYGOPALPUR YOUTH DEVELOPMENT CENTRE, SANDESHKHALI

DO

1.25

The project is running well. CFC formed.

250Artisans have been trained and involved in producing of textile items like school dress of schools  situated in SANDESHKHALI-I& II , HINGALGUNJ, etc., Besides they are producing  Mask, nighty, churidar etc.

MOSTLY  are earning in an average Rs. 4000-5000/- per month. Sewing machines of high power have been supplied to  major  trained artisans.

100% COMPLETED PROJECT.
 REPORT ON NEW STATE Plan Projects forwarded to the Chief Executive Officer. under Cluster Development Programme in respect of North 24 Pgs. during 2014-15.
Sl.No

Name of Project

Project Cost (Rs.in lakhs)

   Facilitating   Agency & Address

 Name of the Block

Remarks

1

 

KANTHA STITCH

77,10,112.00

-DO--

--DO--

To be sanctioned shortly

200 artisans would be benefitted.

2

Mat mkg.

2,00,00,000.00

Do

Swarupnagar

To be sanctioned shortly

1000 artisans would be benefitted
 Some photographs are appended below of various VI Cluster Projects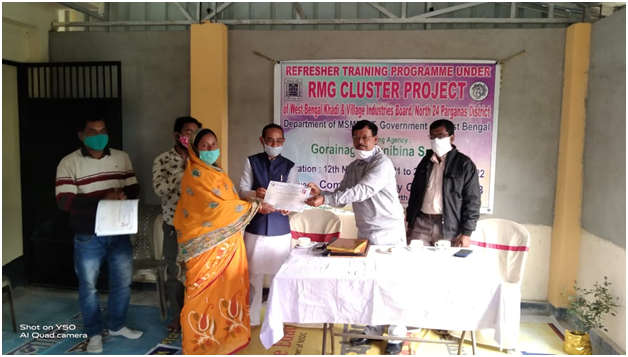 Gorainagar RMG Cluster Project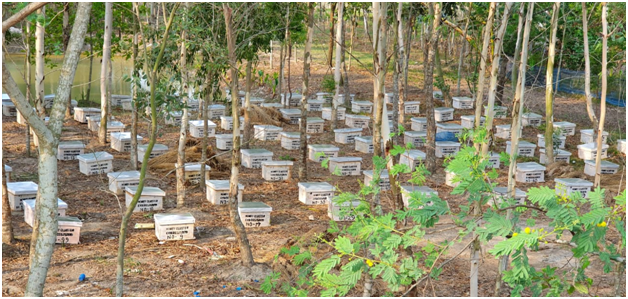 HINGALGUNJ Gobindakati Honey Cluster Project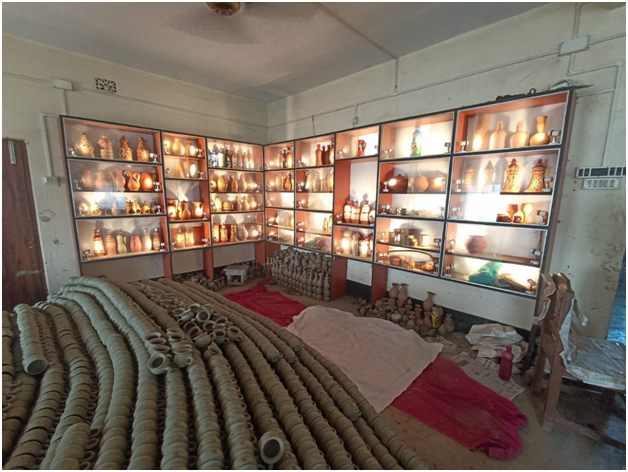 DUTTAPUKUR Terracotta Cluster Project at Chaltaberia, BARASAT-1