PMEGP is a revolutionary decision of the Ministry of MSME, Govt. of India by merging PMRY and REGP schemes.
Nodal Agency: KVIC is the Nodal agency at national level to implement the scheme across the country.
Implementing agencies & Area: KVIC and KVIB in rural areas of the country and DIC in both rural and urban areas of the country
Maximum Project size: Rs. 25.00   lakhs   for   manufacturing sector and Rs. 10.00 lakhs for service sector
Educational Qualification: Minimum (Vlll)th passed for the project cost above Rs 10.00 lakh under manufacturing sector and above Rs.5.00 lakh project cost under service sector
EDP Training:
1.3 days EDP Training for the Project upto Rs. 2.00 lakh only for service activity.
2.2 weeks (14 days) EDP training is mandatory for all other projects. Persons already undergone training of 2 weeks will be exempted for further training.
3.The   training   should    be   invariably completed    by    the    respective implementing   agencies   (DIC/KVIB/KVIC) withing 12 months of release of first implementation.
How to apply: The scheme will be advertised through print and electronic media. The beneficiary can submit application along with project report at nearest KVIC/ KVIB/ DIC/Bank office.
Documents required: Certificate   of   Educational    Qualification, Technical    Qualification,   Caste    Certificate (wherever applicable), EDP Training Certificate (for beneficiaries already undergone training) 
Selection of Beneficiaries: Beneficiaries will be selected through interview process by the District Task Force Committee headed by the District Magistrate/ Dy. Commissioner/ Collector/ADM for better coordination the DLTFC meeting will now be jointly convened by the GM, DIC and LDMS of the district.
Project sanction: Project will be sanctioned by Financing branches of the Banks as per techno-economic viability. 
Amount of Bank Loan: Banks sanction and release 90-95% loan of the sanctioned project cost 
Own Contribution: 10% of the project cost in case of General Category and 5% in case of Weaker Section Beneficiaries.
Govt. subsidy level under the scheme :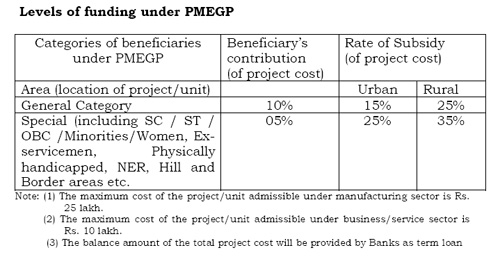 Marketing Support: As a marketing support for the products produced by PMEGP units, Exhibitions, Buyer-Seller meet etc. will be arranged to promote their products.
Physical Verification: As a monitoring part and to know the impact of the scheme and to ensure proper utilization of Govt. subsidy, 100% physical verification will be conducted.
Monitoring: Monitoring will be done a State/ Zonal/ National level. 
Backward & Forward Linkages: As a support service, funds will be provided for Backward & Forward Linkages under the scheme.
Industry Groups: Agro & Food processing industry ; Forest based Industry, Handmade Paper/Fibre; Mineral based Industry; Polymer & Chemical based Industry; Rural Engineering & Bio-Technology;Service Industry including Textiles.
Negative List: Industry   connected    with    meat   i.e.processing,   canning,   serving   items   made   of   it,intoxicant items like Beedi / pan / cigar / cigarette etc., Dhaba serving liquor, preparation / producing tobacco as raw materials, tapping of toddy for sale, connected with cultivation of crops / plantation, Harvester machines, manufacturing of polythene carry bags of less than 20 microns thickness, manufacturing of carry bags or containers made of recycled plastic for storing, carrying, dispensing or packaging of food stuff, Processing of Pashmina wool and such other products like hand spinning and hand weaving, khadi programme availing sales rebate, Rural Transport (Except Auto Rickshaw in Andaman & Nicobar Islands, House Boat, Shikara&Tourist Boats in j & Kand Cycle Rickshaw).